Take Total Control with Ammann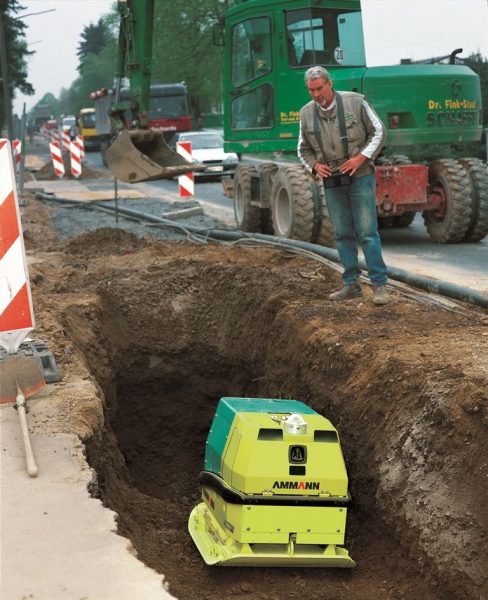 AMMANN INTRODUCE REMOTE CONTROLLED VIBRATORY PLATE COMPACTOR
Packed with new features the latest stock of Ammann rollers and vibratory plates have arrived and are available now for immediate delivery.
Freedom of movement is a big feature of the Ammann APH1000TC Vibratory Plate Compactor. Along with the many other excellent benefits associated with an Ammann plate compaction model the APH 1000 TC has something a little different, a remote control function.
Operator safety has increasingly become an important aspect of the decision making process for contractors particularly in trench construction, says Ed Richardson Sales and Marketing Manager of Youngman Richardson & Co Ltd. There are certain situations where compaction can be hazardous, he said.
Ammann has developed a machine that is the ideal problem-solver for these types of sites, the remote-controlled vibratory plate APH 1000 TC. It is powerful and very compact thanks to a high-performance, Hatz diesel engine. The machine achieves excellent compaction results even in deep trenches. The operator controls the machine from a safe location by either infrared or cable remote control. Overall operator safety is the focal point of the APH 1000 TC.
Infrared remote control units do not require charging: they are equipped with solar cells and are always ready for use. The maximum distance between transmitter and machine is 18 metres. The maximum possible distance between transmitter and machine for remote control by cable is 8 metres. A proximity switch protects the operator: the machine will stop or cannot be started if the distance between operator and machine is less than two metres.
The Ammann APH 1000 TC operates on the proven principle of a fully hydrostatic system: a hydraulic drive system powers the exciter shafts and adjusts the centrifugal weights to guarantee a quick response to operator commands via remote control. There are no parts susceptible to wear and tear such as clutches or V-belts.
Other notable features of the Ammann APH 1000 TC, which weighs in at an impressive 710kg includes, a protective casing that not only guards against dirt and damage but also offers easy accessibility for service. An extraordinary large air filter system provides active dirt particle separation and the optimized shape of the base plate ensures a balanced running performance, powerful drive and maximum gradient climbing capacity.
For more information or a demonstration of the Ammann APH 1000 TC contact Youngman Richardson Co. Ltd 09 443 2436 or for South Island enquiries, 03 341 6923.