Almac Tracked Access Equipment takes Pro Services to the Next level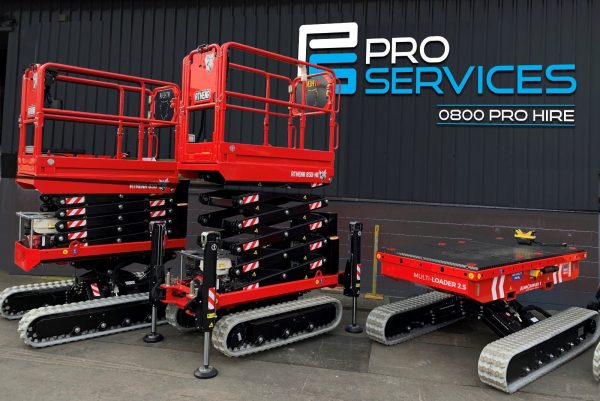 Auckland based Pro Services has recently taken delivery of their first two Almac Tracked Access Equipment options, the 850-BL-EVO tracked scissor lift and the Multi-Loader from Youngman Richardson & Co Ltd to further strengthen their market position.
SEEING THE POTENTIAL in these machines was simply a no brainer according to Pro Services Co Directors Murray Rich & Neil Radley. "What appealed to us most was the ability of the platform to remain level whist driving over rough terrain. Most other machines of its type are unable to do this but not the Almac 850-BL-EVO. It stays very stable, is safe and what's more you can carry on working while you're driving," says Neil.
Once positioned in place the Almac tracked scissor lift has a unique stabilising system (independently Bi-levelling tracks) which caters for different work situations where it can adapt from very narrow environmental applications to difficult or uneven terrain uses. "Given the fact that the machine will be safe no matter whether it is moving or stationary means that the operator can get on with the job and not have to worry about anything else," says Murray.
With a powerful Kubota diesel engine the Almac 850-BL-EVO scissor lift has many other features including being able to work up to 7.9 metres high. There is also a considerable increase in platform size with a 2-man basket (250kg capacity) and the ability to extend it to provide additional horizontal reach and extra room for tools and materials.
In addition to the Almac tracked scissor lift they have also purchased in conjunction with Murray's company Rich Rigging, a remote controlled Multi-Loader tracked platform to complement their portfolio of products. The Multi-Loader has a flat deck platform with 2.5 Tonne capacity and independently Bi-levelling tracks.