Greenmech chipper impresses Council staff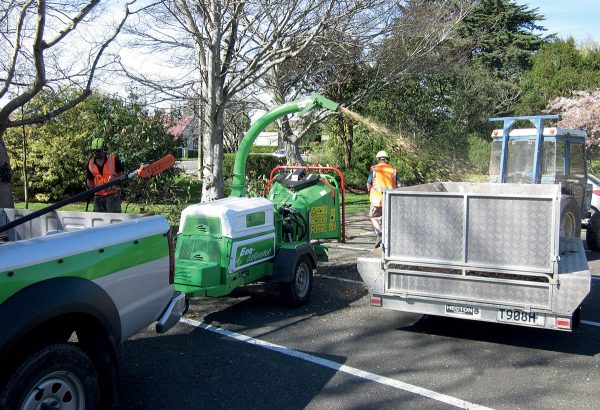 This is probably the best piece of equipment weve ever bought, says Chris McAulay, Team Leader for Invercargill City Council's, Queens Park. Chris, who is responsible for the maintenance of the region's largest public area, is full of praise for the recently purchased Eco Arborist chipper from Greenmech. We've been very impressed, it's super easy to operate and it works so efficiently, says Chris.
Another person who is sold on the Greenmech Arborist chipper is Invercargill City Council Parks Operations Manager, Brendan Monaghan. The council have a full fleet of chippers but had been on the look out for a smaller unit that could be based at Queens Park to take care of the lighter pruning jobs and windfall work.
The council recycle all the mulch back into the gardens, so it made sense to get a manoeuvrable, lightweight model to work in the normally hard to get at areas and avoid double handling of the timber by having the chipper on site.
Initially we compared 6 chippers including the Greenmech, says Brendan Monaghan. In the end we found that the Greenmech was the best in its class and it also helped that the Greenmech Eco Arborist was also available in a diesel configuration. This was a major factor leading to the final decision. Parks Operations have an all diesel fleet so it made no sense at all to have a stand alone petrol model and sacrifice our already established cost efficiencies achieved with diesel operated equipment, he said.
Distributed by Youngman Richardson & Co Ltd, the Eco Arborist Diesel 6 is one model in a range of cost effective chippers which is big on features, including no-stress in- feed control, putting this range in a class of its own. Greenmech have long been in the forefront of wood chippers, green waste shredders and related arboriculture technologies that are all built to the highest engineering standards that encompass strength, efficiency and safety.
We've been super impressed with the Greenmech Eco Arborist's ability to work up to the limits of its specifications. It handles small and the larger 6 logs with equal efficiency, so we are getting more than we expected, says Brendan.
Queens Park is more than just the recreational hub of Invercargill, it is also a tourist attraction and was part of the original plan when the city was founded in 1856. The park is 200 acres (0.81 km2) and has an 18-hole golf course, a botanical garden, an aviary and sports grounds. It is also the home to the Southland Museum and Art Gallery and the Southland Astronomical Society Observatory.
For more information and specifications on the Greenmech chipper and green waste spreader range, contact us.