K 1 PACE – Husqvarna's new battery-powered concrete cutter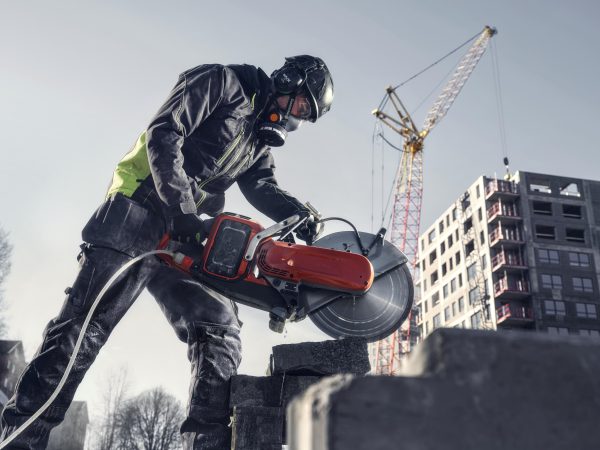 With the launch of K 1 PACE, Husqvarna can now offer customers a full-sized battery-powered cutter that can handle the heavy-duty jobs. Now you can move – and cut – in a whole new way.
Distributed in New Zealand by Youngman Richardson this will be the first of many future products featuring Husqvarna's new battery system, PACE. According to Youngman Richardson's Sales Director, Phil Fairfield this new generation PACE battery system is set to deliver big time. "Not only does the new K 1 PACE battery-powered concrete cutter deliver power and performance equivalent to petrol-powered cutters, it also comes with the benefits that battery-powered equipment brings to both operator comfort and the environment."
The K 1 PACE battery-powered concrete cutter is a step ahead when it comes to quality and safety standards and features the X-Halt brake system that stops the blade in fractions of a second enhancing safety for the operator. With K 1 PACE, customers also get a high-performance battery-powered cutter that provides zero direct emissions. As well as that they can expect lower vibrations, less noise, smoother cutting and its low weight at 7.4 kg (with B380x battery 10.4 kg) and the optimal centre of gravity minimises strain on the body. It also comes with a vacuum attachment.
Built-in connectivity means you can easily monitor machine location, runtime, service intervals and receive wireless updates through FOTA (firmware over the air). Powered by the Husqvarna PACE battery system the K I PACE can be charged in as little as 45 minutes. The ability to charge this fast leads to impressive productivity and matches perfectly with the specially designed battery blade range that maximises cutting depth and optimises performance.
The K 1 PACE high-powered battery concrete cutter can cut to an impressive maximum depth of 145mm with specially designed 14" (361mm) blades making it ideal for cutting into concrete slabs, garden plates, asphalt, cinder blocks and concrete pipes.