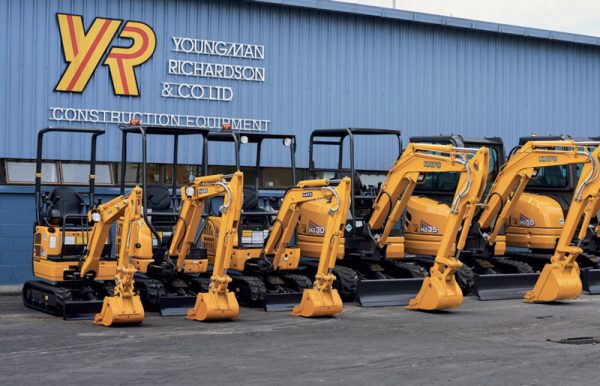 Early last year Kato Works Ltd confirmed that it had acquired the business interests of IHI Construction Machinery Limited which now comes under the KATO name worldwide.
With the recent release of a new 1.2 tonne excavator to the New Zealand market, distributor Youngman Richardson & Co Ltd (YR) has taken the opportunity to announce a rebrand for the other existing 9 IHI models which will now also sport the KATO yellow livery.
"The IHI brand has always been highly regarded and sales of IHI products in this country has excelled all expectations in recent years," says YR National Sales Director, Phil Fairfield. "We can assure all our customers that the quality of the product on offer will not change. Attention to detail and innovative new features are what our customers can expect in the future and the new KATO HD12VXE excavator lives up to that promise," says Phil.
The new concept KATO HD12VXE is a mini excavator which has been designed to be small enough to pass through a door that is no more than 90cm wide. With movable tracks and blade to allow greater flexibility and with a quick change from wide to narrow mode, it is the smallest front radius mini excavator in its class.
The remaining line-up includes the 1.7 tonne zero tail swing K ATO HD17V XE model which features industry leading digging depth, dump height, reach and break-out force. Power and speed of excavation are assured when working in confined spaces. Likewise the KATO HD19VXT is just perfect for operating in rough and narrow places. The variable gauge undercarriage offers high operating stability and versatility. A 4-post canopy Roll Over Protection Structure (ROPS) is standard across these three models and the ROPS can be lowered on the HD12VXE so that the digger can be stored in a smaller space.
Thanks to the reduced tail swing on the 3 tonne KATO HD30V4 and HD35V4 excavators, it is possible to perform digging and loading operations in total safety near to walls or other tight spaces. They lead the way in their class with the option of either a full cab or a 4 post ROPS canopy. This is also the case for the KATO HD55V4 excavator. This model really does the business when it comes to civil construction, drainage and landscaping applications. And its multiple bucket options make it perfect for the hire industry.