Ligchine Laser Guided Concrete Screeds – Beyond Level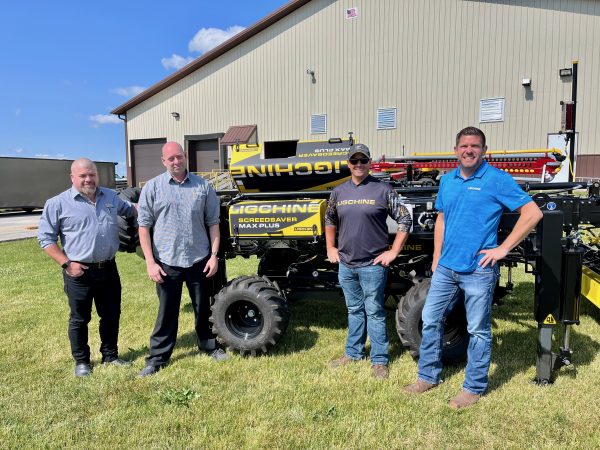 Founded in the USA Ligchine, a global leader of innovative cost saving concrete screeding equipment is now in New Zealand. Since 2008 the company has rapidly expanded to be at the cutting edge in laser-guided and 3D GPS/LPS guided concrete technology and can now boast an impressive range of automated concrete screeding machines backed by a worldwide distribution network.
Ligchine is now literally cementing its place in history with the launch of a new product that not only redefines innovation but takes it to a new level. And what's more it places Youngman Richardson, New Zealand distributor, for SCREEDSAVER MAX PLUS® at the forefront of a revolution that will see a major change to the way concrete floors are delivered to any future building, warehouse or facility that requires a large flat floor.
Youngman Richardson's Sales Director, Phil Fairfield first noticed the Ligchine SCREEDSAVER MAX PLUS® at the World of Concrete Expo and immediately saw its potential for the concrete industry in New Zealand. With a full range of automated flatwork screeding machines available, both small and larger contractors can now benefit from a state-of-the-art product that is accurate, durable, versatile and above all, affordable.
"Ligchine is a family owned and operated company with values similar to Youngman Richardson who are genuinely interested and excited about their products now having a presence in our country," says Phil Fairfield. "Introducing these outstanding machines will not only help our concrete customers in their quest to improve their own productivity and profitability but also provide better outcomes for their clients," he said.
The SCREEDSAVER MAX PLUS® builds on the strengths of its other high performance boom operated screeds with a lightweight body that makes it easy to manoeuvre, drive-in and transport by trailer from site to site.
A significant new development with the SCREEDSAVER MAX PLUS® is its pivoting frame which provides unmatched screed head manoeuvrability resulting in increased speed and efficiency whilst at the same time maintaining accuracy. Another unique feature is that the boom itself can move up to 1.6M side-to-side to complete a pass without even having to be moved.
The SCREEDSAVER MAX PLUS® is packed with features including a laser guided concrete screed that when combined with TOPCON technology will delight local contractors who are familiar with the benefits TOPCON provides when it comes to maintaining leveling accuracy. It will also help them to work more quickly and profitably by being able to produce and deliver a more consistent flatter surface.
Ligchine screeds themselves deliver significant savings by dramatically reducing a company's dependence on labour where staff shortages these days are a common occurrence. The machine solves this issue by being able to screed 18.6 sqM with each pass and automatically levels 10 x a second. The Ligchine screeds themselves give maximum coverage per pass and can move quickly when it comes to going to the next spread. Ligchine prides itself on a superior level of performance and in meeting industry standards you can be assured that this product is a step ahead of anything else on the market.
For the range and specifications click here.