Rock Solid Mikasa Compaction Equipment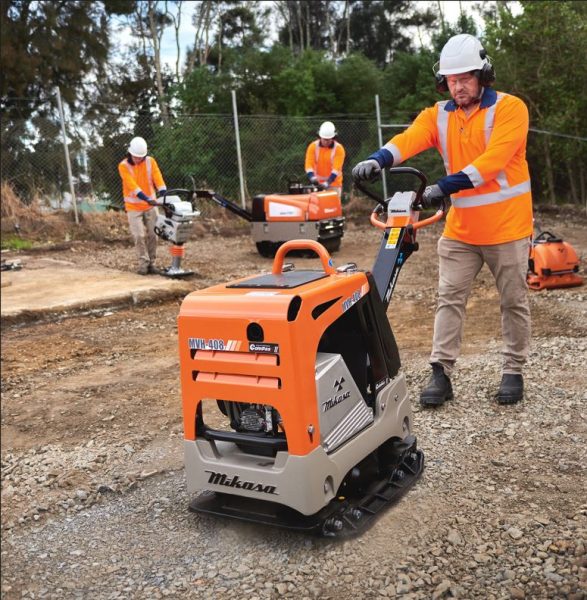 MIKASA. LAYING THE GROUNDWORK FOR INDUSTRY LEADING PLATE COMPACTORS, RAMMERS, AND VIBRATING ROLLERS..
A global brand synonymous for quality and reliability with over 55 years of export experience, Mikasa has truly earned its reputation as the country's foremost provider of compaction equipment. Since 1989 New Zealand distributor Youngman Richardson has been instrumental in growing the local market by being able to offer a wide range of Mikasa product, exceptional after sales service and genuine parts.
Manufactured in Japan, Mikasa compaction equipment provides top line performance, easy handling and durability. This is because of a continuous research and development programme to ensure the durability of the brand, encouraging new initiatives in combination with its partners worldwide. At the same time the company strives to provide on-going improvements and increased reliability to its existing products to meet today's changing needs. These are just some of the reasons why owners and end users rely on Mikasa for a wide range of projects. Ideally suited for civil engineering, construction, drainage contractors and the hire & rental industry, they offer among other things high compaction capacity and travel speeds.
Reversible Plate Compactors
For compacting in both directions typically used for concrete preparation, harder base coarse materials, roading applications and drainage, Youngman Richardson has the range of MVH series Mikasa Reversible Plate Compactors. On-the-spot compaction with full variable speed, manoeuvring in tight spaces and around obstacles becomes a breeze. Depending on the model the plate sizes can vary between 350 x 480mm up to 650 x 900mm (with extension plates).
Mikasa Reversers are available with a COMPASS compaction meter for continuous compaction control. This technology helps improve efficiency and maximises productivity with an easy-to-use series of LED lights that indicates the progress made with each machine pass.
The weight of the models varies from 68kg to 536kg and come with a centrifugal force ranging from 15kN to 65kN. They also have multiple anti-vibration points and a sturdy lifting frame. Highly effective hydraulic systems set them apart from the competition for reduced servicing and downtime.
Forward Plate Compactor
Youngman Richardson has multiple models to choose from in its Mikasa MVC Forward Plate Compactor range weighing between 50kg and 91kg. When combined with a centrifugal force ranging from 7.2kN to 16kN you have a very balanced and powerful range of equipment. These machines are designed to move forward in a straight line and are normally used for compacting soil and sand, as well as being ideal for condensing hot mix asphalt surfaces.
Lighter models are ideal for landscaping, paving, narrow trench work and general compaction tasks. On the other hand, if you're doing sub-base compaction work, paving and asphalt then the larger Forward Plate Compactors with their larger plate size will allow you to cover more ground, more quickly with fewer passes.
Mikasa units come with a Vibration Absorbing System (VAS) to lessen impact on the operator from harmful tremors. Models within the MVC series also feature a wheel kit that can be easily folded up within the handlebar frame when in use.
Rammers
From the 46kg Narrow Leg Rammer, specially designed for narrow trench cable re-instatement and irrigation to the 58kg-93kg standard rammers, Youngman Richardson has a range of petrol and diesel options designed to suit a wide variety of applications.
Vibrating Pedestrian Roller
The Mikasa MRH700GS Twin Drum Roller is a walk behind pedestrian roller with incredible credentials.
It has exceptional climbing ability and compaction with a double drum drive, a double drum vibration unit and is powered by an electric start Honda petrol engine. The hydraulic system ensures reliable operation and excellent maintenance. At 680kg and with a centrifugal force of 23.5kN this model is ideal for roading, car park compaction work, paving preparation and asphalt.