Vac-Ex – new air excavation exquipment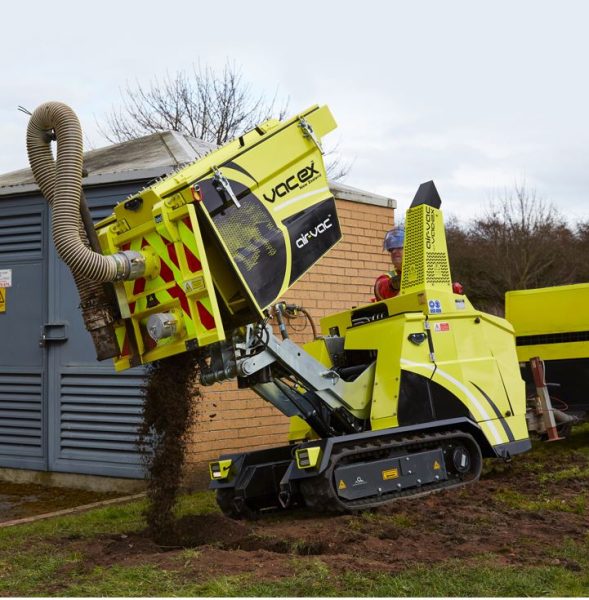 Youngman Richardson has been appointed New Zealand distributor for UK based Vac- Ex's unique range of excavation equipment. With its Head Office in Doncaster, England Vac-Ex distribute their products globally with partnership agreements throughout Europe, Asia and Australia. Youngman Richardson having now been appointed a partner are the 11th country where Vac-Ex has a presence.
"To celebrate the appointment, we have initially chosen two vacuum tracked models which are absolutely ideal for New Zealand conditions," says Youngman Richardson Sales Director, Phil Fairfield. "The Vac-Ex T-VAC track and the AIR VAC track provide a safe and specialist alternative to traditional digging methods where buried utilities need to be quickly located and safely exposed, particularly on construction sites. And just for something entirely different, we will also make available the AIR-EX which is a lightweight, hand-held air excavating tool that can be used in conjunction with the two compact vacuum excavation machines."
Vac-Ex uses compressed air to break up the ground before vacuuming the loosened soils. By using this specialist technique, the excavated material remains dry, giving you the option to reuse the material on site to refill holes or trenches saving on disposal costs. As well as general use in the Construction and Hire Industries, specific industrial applications could include pipelaying, rail works, cable laying, gas, road works, tunnelling, arboriculture, military, airports, municipal, building, environmental, hydro -demolition and petrochemical.
THE NEW WAY TO EXTRACT SOIL AROUND VALUABLE GROUND ASSETS
As well as being non-destructive, the Vac-Ex process has a unique property that can excavate very narrow and deep holes or trenches up to 2 metres deep and 90mm wide in under 5 minutes depending on the ground. The soil removal process is fast and can effectively save between 4 – 5 times the time taken to hand dig. Vac-Ex units can come in different sizes, shapes, and weights to suit the job at hand. The Vac-Ex tracked units have an operating weight from 1650kg – 2880kg, each offering a different solution to the customers' requirements.
Breaking the Ground: Compressed air either supplied on board the unit or externally is directed through an insulated AIR-EX lance to initially loosen, agitate, or aerate the ground. This loosens the debris, which is then safely removed by vacuum. Removing the Ground: The Vac-Ex units generate a large amount of air flow and vacuum. The process separates the debris and filters the dust, which ultimately results in clean air being expelled into the atmosphere. Difficult Ground: If the ground is stubborn, high-pressure water is a good alternative to safely work around underground plant and equipment. Transportation & Disposal: The Vac-Ex equipment are sealed units, enabling the dry materials to be transported without the risk of cross contamination. The excavated material can also be re-used onsite, meaning there is no need to transport the material to be disposed of.
THE T-VAC (2) TRACKED EXCAVATOR
Capable of excavating most types of wet or dry ground, the T-VAC 2 can access an array of sites where space is limited. This model has excellent off-road capability and can be supplied with an optional lightweight onboard compressor, high- pressure water, hydraulic outputs and generator.
Great for water leaks, the T-VAC also doubles as a trash pump with a 100mm/4"outlet in the debris door, allowing liquid waste material to be discharged at the same time as removing water from the excavation, thereby minimising disruption. The T-Vac is an asset when working around residential areas, where noise reduction is a factor.
Weight: 2880 kg
Height (skip lowered): 2311mm
Height (skip at max. tip): 2580mm
Width: 1724mm
Length: 3814mm
Vacuum: Twin turbine
Optional: Compressor 145 psi / 10 bar
Optional: HP Water: 2000 psi / 137 bar
Optional: Generator 5 kVA
THE AIR-VAC TRACKED VACUUM EXCAVATOR
The AIR-VAC tracked vacuum unit is capable of excavating most types of wet or dry ground. This compact unit can be manoeuvred easily around most construction sites and has proven productivity when compared to traditional excavation methods.
This method of excavation is also much safer and reduces operator fatigue, allowing the work to progress quicker. Because of its compact size, the AIR-VAC tracked vacuum unit is ideal for carrying out jobs such as installing electric vehicle charge points or working on underground services where space is restricted. It is also ideal for rail applications as it is capable of tracking in between railway lines to access the work site.
Weight: 1650 kg
Height (top of exhaust): 1950mm
Height (at min. tipping): 1800mm
Height (at max. tipping): 2580mm
Width: 1000mm
Length: 2600mm
Hydraulic PTO: 25 or 50 L/min @150 bar
Hose inlet: 125mm / 5"
Skip capacity: 0.20m³
AIR-EX EXCAVATING TOOL
The AIR-EX lance is the industry leading air excavation tool for ground decompaction and clearance of spoil from around underground assets. With air speeds of up to 2135kph and with pressures exceeding 120psi this tool enables safe, effective, stress-free loosening of the ground around buried fibre optics, gas, water and electric utilities.
The Vulcanex nozzles with non-sparking tips, concentrates the air flow into a high velocity jet stream that penetrates and dislodges the soil in milliseconds, removing the potential of damaging buried assets. Weighing just over 3.5kg, the AIR-EX lance is strong and durable tool, designed with operator comfort in mind. The actuator valve requires minimum force to engage, reducing hand and forearm fatigue, and the risk of repetitive strain disorders.
Lengths: 755mm-1335mm
Compressor: 40-180 CFM
dB level: 93 dB (close to compressor)
H.V. Test: 75 kV
Effective 'cut': typically 100mm