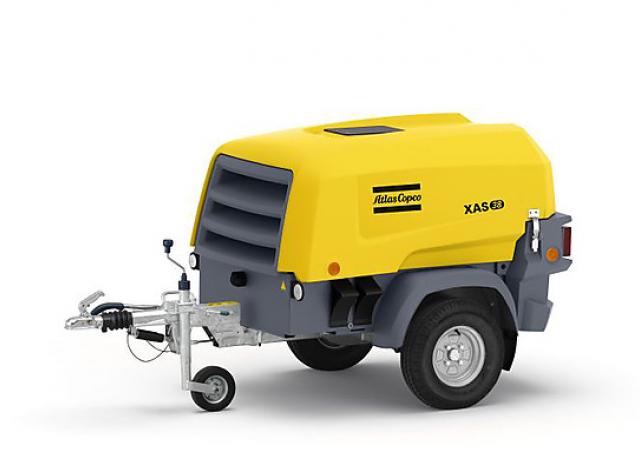 XAS38/ Copco Silenced Road Towable Diesel Compressor
The Atlas Copco XAS38 100 psi compressor is silenced, single stage and diesel powered, and with 70 cfm air delivery is ideal for construction demands.
This road towable air compressor frame is rugged and built to last and designed for continuous use. It is great for building sites and can handle many applications from paiont spraying, over powering hand held tools to shotcreting.
These compressors are designed to work economically with the compressor going to no load when not being used and when the air demand returns, the compressor is automatically restarted.
Specifications
| | |
| --- | --- |
| Compressor Type | Silenced, Single Stage, Oil Injected Screw Compressor |
| Normal effective working pressure | Psi 100 |
| Compressor Air Delivery (FAD) | cfm = 70 |
Features
Full load 3400rpm
3 cylinders
Engine model: Kubota D722 liquid cooled, three cylinder, 14.9 kW
EU Stage V
Length mm: 1570
Width *2 mm: 1060
Height *2 mm: 990
Wet Weight KG: 440
110% spillage free frame
Lifting beam
Integarated generator
C3 certified anti-corrosion frame
Anti-airlock system removes air from the fuel lines
Resources & downloads