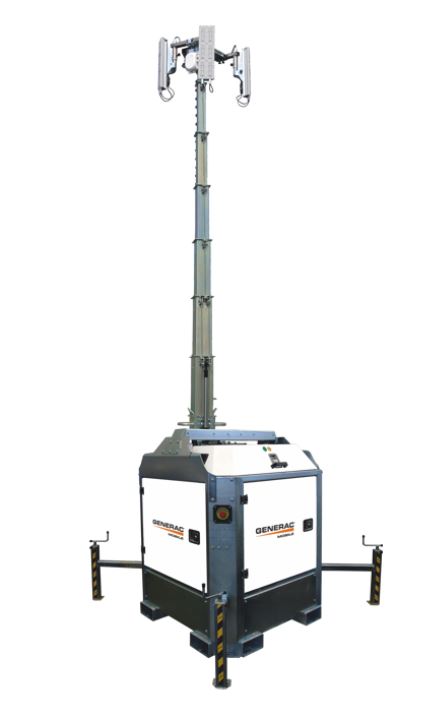 CUBE PRO Stand Alone Light Tower
The V20 PRO combines 100% battery-powered supply, with the latest generation Generac Mobile hybrid ower supply with a low consumption diesel engine for up to 785 hr running time
The new CUBE+ HYBRID light tower is equipped with a hybrid powering system. The extreme compactness and the new special features make this model ideal to be used during events or areas with low noise or carbon dioxide emission requirements.
The CUBE Hybrid provides up to 8 hours of continuous operation without carbon dioxide emissions, fuel consumption nor noise, thanks to the battery pack. The special dry batteries are able to be recharged in few hours from either an external power source or from the built-in backup generator. With a running time of up to 342 hrs thanks to the hybrid features and LED lamps.
Ideal for entertainment, construction and hire industries.
Specifications
| | |
| --- | --- |
| Total running time | up to 785 Hrs |
| Total lumen | 139200 lm |
| Illuminated area | 3100m2 |
| Wind speed resistance | 110km/h |
Features
8.1M Hydraulic Mast
Fully Bunded
58dB(A) @ 7 metres
Mast rotation: 340 degrees
Dry weight: 1146kg
Zero Noise
Zero Pollution
Mast rotation 340 degrees
Tank capacity 100 litres
Kubota S482 engine
AGM battery pack
Liquid engine cooling
4 x 240 W high-efficiency G4 LED floodlights
Darkness sensor and digital timer for automatic start and stop
25%-100% Dimmer
Max total lumen between 25%-100% dimmer: 41040-139200
Max illuminated area between 25%-100% dimmer: 1500-3100 square metres
Battery recharging time between 25%-100% dimmer: 6h 11 minutes – 4h 29 minutes
Running time Battery between 25%-100% dimmer: 19h 46 minutes – 3h 45 minutes
Running time Generator between 25%-100% dimmer: 275 – 208 hours
Running time Hybrid between 25%-100% dimmer: 785 – 300 hours
Resources & downloads