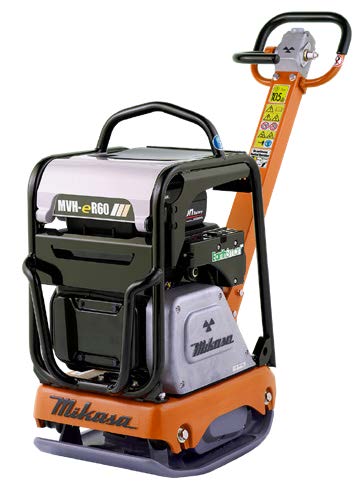 Battery-Powered Mikasa 68kg Reversible Plate Compactor
Mikasa 68kg Battery-Powered Reversible Plate Compactor - ideal for civil engineering, construction, drainage contractors & hire industry where low emissions are a must
Mikasas 68kg hydraulic reversible plate compactor is the lightest in the range and incorporate a unique hydraulic system that eliminates old fashioned cables and linkages. The zero-emission power unit model emits no exhaust fumes and does not polute the air.
There are no complicated mechanical drive shafts or cables to create problems therefore greatly reducing servicing and downtime. All Mikasa reversible plates have on the spot compaction and full variable speed allowing for slow travel and/or a neutral position allowing the operator to manoeuvre the unit in tight spaces which helps eliminate damges to surrounding structures.
Is ideally suited for civil engineering, construction and drainage contractors as well as the hire industry and the ideal size for paving ashphalt.
Specifications
| | |
| --- | --- |
| Weight | 68kg |
| Plate (mm) W x L | 350 x 480 |
| Frequency | 108 |
| Centrifugal Force | 12.0kN |
| Engine | Honda DC Power unit 2.4 kW |
Features
Travel speed max 24m/min
Full variable speed control
On the spot compaction
Fold-up handles for transportation and storage
Roll bar protecting frame incorporating a lifting point
Protective rubber hood for engine
Fully enclosed belt guard
Electric start
Optional water tank for asphalt work