Spiderlift earns extra work for landscape contractor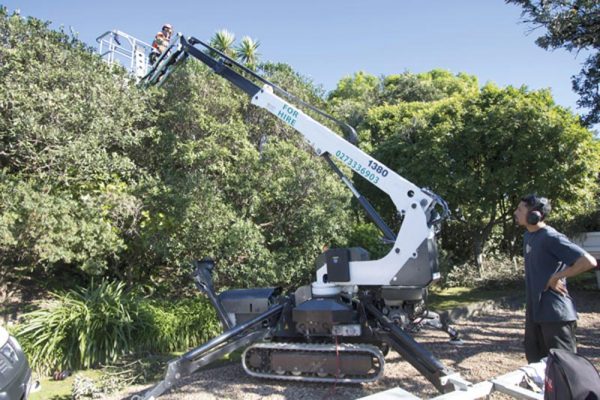 Landscapes and Lawns is an environmental garden business on Auckland's Waiheke Island that does landscaping installation and maintenance work on properties that are not always easy to access.
Owner Jeff Moore says the purchase of a Platform Basket Spiderlift PBB1380 has made a big difference to his business, resulting in a lot of extra work due to the machine's longer reach and ability to go almost anywhere. "We've had hires for jobs that have only taken a few hours to complete. This same work would normally have required scaffolding which would have taken extra time to erect and dismantle. Likewise, trees and palms that could not be climbed have been easier to work on, no problems," says Jeff.
"We've had this machine for over a year now and despite it being used in some very tricky situations it has not yet managed to get itself stuck. Its tracks make it ideal for conditions on the island because of its versatility. As a result of this, the work gets done quicker and productivity has increased significantly," says Jeff Moore.
"Another big plus for us," says Jeff, is that it can run on electricity and is very quiet. "It makes less noise than my wife's hairdryer so you don't even need to wear earmuffs. It's a great machine and when it comes to health and safety it just can't be beat.
We have a team of four in our business and each of them, under my supervision, have quickly become fully conversant with the operation of the PB1380. It's so safe, simple to operate and transport that we hire it out quite a lot," he said.
"Being on an island means that customer support is vital to us. We are not a big customer of Youngman Richardson & Co Ltd but they treat us though we are.