Super Compact Selwood Drainer Pump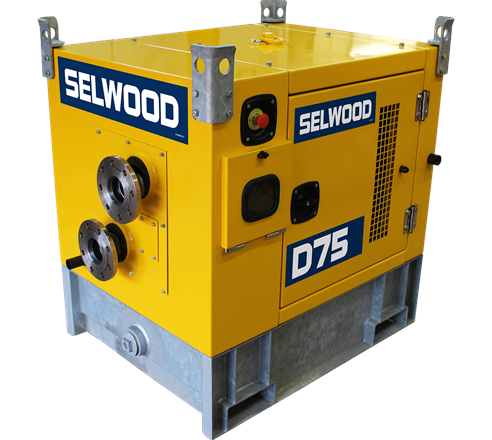 What makes Selwood pumps so good? It's because Selwood have a range of pumps that meet the needs of the construction industry no matter what the application. With a commitment to quality, safety and the environment Selwood pumps are subject to all recognised standards in these areas including the ISO-9001 accreditation criteria.
The pumps may be silent, but New Zealand distributor Youngman Richardson & Co Ltd is determined to make as much noise as possible around the recent arrival of the smallest model in the Selwood Drainer 'D' range. The Selwood Super Silent, diesel-powered D75SS pump is a compact, high performance machine that comes with a number of benefits and features noise levels as low as 75db(A) at 7M.
Low operating costs are achieved through overall design efficiency which produces an impressive maximum flow rate of up to 59m³/hr, a total head of 23.5m and the handling of solids of up to 29mm. The Selwood D75SS is perfect for use with clean water, fine or larger solids and screen sewerage.
The overall size of the Selwood D75SS Drainer pump is 122cm long x 93cm wide x 120cm high. And what's more it has been designed to stack up to 3 units high. Other features that set this model apart is an auto start and stop function, float switches, convenient intake and outtake valves and handy control panel.
D75SS Specifications
| | |
| --- | --- |
| Capacity (m3/h) | 59 |
| Total Head (m) | 23.5 |
| Solids Size (mm) | 29 |
| Self-Priming Lift (m) | 8.8 |
| Air Handling (l/s) | 4.25 |
| Power Required (kW) | 3.7 |
| Max. Pump Speed (rpm) | 2000 |
| Inlet/Outlet (mm) | 75 |
Like all the other models in the range the Selwood D75SS is fully bunded, ensuring that any fuel or oil spillage is retained within the bund and does not contaminate the surroundings. It also includes Selprime, a unique original self-priming system which uses a water tolerant diaphragm air pump. And that's not all, also included is YR Connect, a cloud-based asset management and GPS system to protect against theft – all from the user's computer or mobile.
Selwood Pumps was established in 1946 and has had a strong presence in New Zealand for over 20 years. A market leader in vacuum assisted super silent mobile pumps, Selwood products are commonly seen on construction, mining and industrial sites and are also popular with rental companies. The pumps are used in a variety of applications including general dewatering; sewage over-pumping and sludge-slurry removal.