Xtensions to the Genie XC range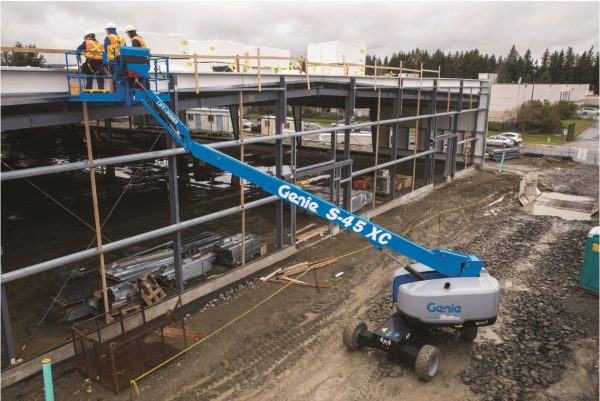 Due to the overwhelming popularity of the Genie SX-135 XC and the S-85 XC Youngman Richardson & Co Ltd is introducing two further models to the XC range. Now, hot on the heels of the two existing machines comes the release of the new compact telescopic articulating and boom lifts, the S-65 XC and S-45 XC.
The Genie S-65 XC has already attracted attention due to its automatic envelope control technology. This is the ability to automatically retract as the booms reach their operation envelope thus providing simple platform positioning and an enhanced operator xperience.
"This is why many of the S-65 XC booms have been sold already," says Sales Director, Phil Fairfield. The Genie S-65 XC is also equipped with a load sense cell that continuously checks the weight in the platform, which can take up to 3 people and limits the operating envelope to match the load chart while boasting the ability to do zero load field calibrations. The XC range has industry-leading Xtra platform capacity: 300kg unrestricted and 454kg restricted range of motion.
The Genie S-65 XC boom also boasts an expanded working zone because of a new chassis tilt sensor incorporated into the machine's function. This unique chassis tilt-sensing technology gives operators access to different ranges of motion based on the chassis angle. And, it is engineered to automatically cut-out specific lift and drive functions of the machines when the tilt activation setting is reached.
"The Genie S-45 XC is similarly spec'd and with a maximum working height of 15.39 metres can perform a wide range of heavier lifting tasks on construction and industrial work sites thanks to dual lift capacity, a feature available on all XC models. All in all the Genie S-45 XC, like its bigger brothers offers innovative features to help increase productivity and job site efficiencies," says Phil Fairfield.