YR Teams Up with Core Drill Blocks NZ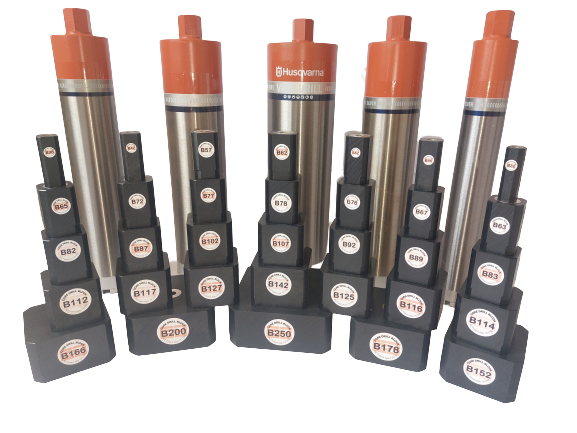 Using a diamond core drill stand or method of stabilising a diamond core drill has several advantages. Using a diamond core drill stand involves anchoring the stand to the material being cored to prevent movement. This is achieved through the anchor bolts or by the vacuum system to ensure accurate, straight holes are achieved with a clean result and in a safe manner in the most efficient way possible.
Sometimes operators short circuit this process of using a drill stand and 'free wheel' when they drill a hole, often resulting in a hole that is not straight or clean, and even increase the risk of injury to the operator.
There is now an alternative to using a core drill stand – the Core Drill Block. Constructed from the most durable and hard-wearing materials, the Core Drill Block is designed to guide the core drill for accurate pinpoint position and there are plenty of sizes to choose from ranging from 32mm – 250mm in diameter. This eliminates the need to use drill frames or the more hazardous method of placing the core drill between your feet. Ideal for construction or civil works, even electricians or plumbers.
The company Core Drill Block NZ came about when David Honey was doing some demolition work over in Australia in 2003. He noticed a contractor core drilling through concrete and holding the core drill between his feet, which were hanging out the sides of his shoes. David's immediate thought was that there must be a safer and more accurate way to drill holes and thus he set off to create the first core drill block. By 2004 he had developed his first prototype, formed a company to manufacture and promote the new product and had achieved a partial patent on the design. After moving back to New Zealand in 2017, David teamed up with current Managing Director Graham Honey and together they secured a drilling contract to drill 4000 plus holes for a railway project. The job was completed using the Core Drill Block with 100% accuracy.
From those early days manufacturing out of their garage to today with premises in South Auckland, Core Drill Block NZ has teamed up with Youngman Richardson to provide wider expose to the market. This range is now available through Youngman Richardson with displays of the product at each of their branches.
"We look forward to helping promote this innovative product and bring safety, accuracy and accessibility to the core drilling industry", said Phil Fairfield, YR's Sales Director.