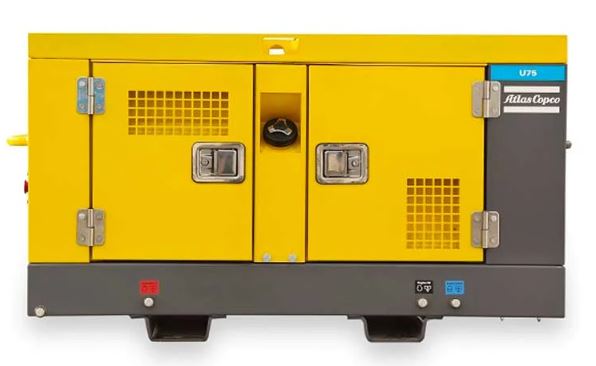 U-110 Copco Silenced Diesel Compressor
The Atlas Copco U110 100 psi compressor is silenced, single stage and diesel powered, ideal for construction demands.
This portable air compressor frame is rugged and built to last and designed for continuous use. It is great for building sites for laying foundations and ground consolidation and aslo pipeline cleaning due to its ability to vary pressure outputs. It is a drilling mobile diesel screw air compressor.
These compressors are designed to work in harsh conditions from -25 degrees – +50 degrees and a pre-heater option is available for the engine for use the colder conditions.
Specifications
| | |
| --- | --- |
| Compressor Type | Silenced, Single Stage, Oil Injected Screw Compressor |
| Normal effective working pressure | Psi 100 |
| Compressor Air Delivery (FAD) | cfm = 100 / 2.8 m3/min |
Features
Full load RMP: 3600
Unload RPM: 2000
Fuel Tank: 30L
Stackable
Heavy duty coupling
Separator is equipped with high pressured sealed and certified safety relief valve.
Engine has a coolant cooler
Compresser is provided with an oil cooler
Engine model: Kubota D902 liquid cooled. three cylinder
Engine No. of cylinders 3
Engine Coolant Parcool
Length mm: 1580
Width *2 mm: 740
Height *2 mm: 850
Wet Weight KG: 488
3 layers Zincor, Primer and Powder Coating
Low noise emissions: Sound Level 7mdB(A): 70
Resources & downloads