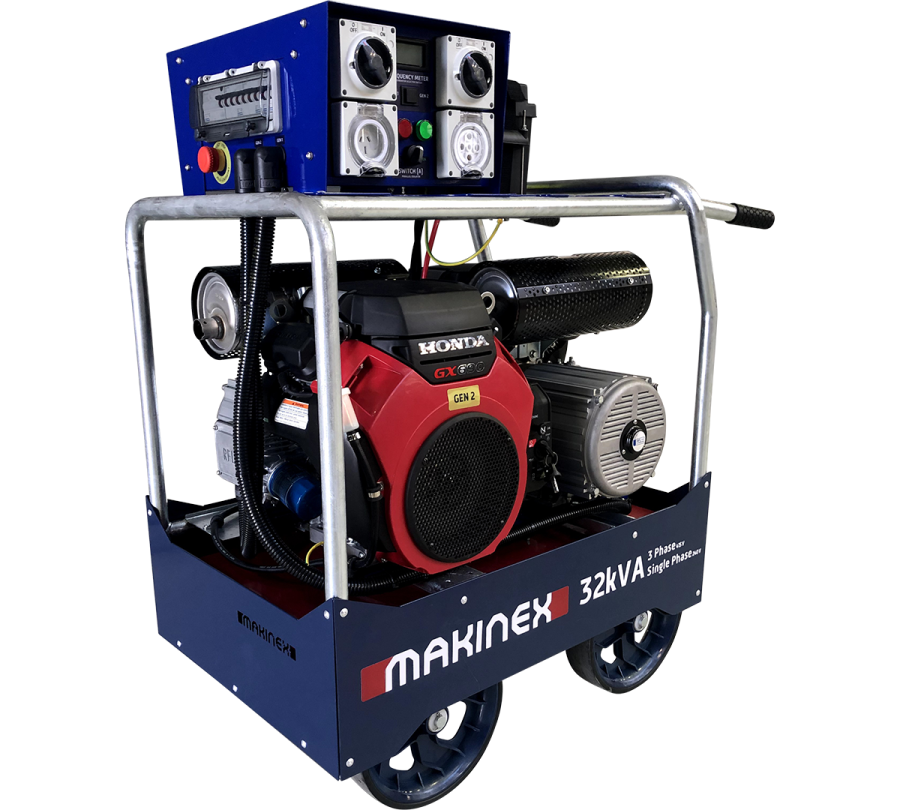 Videos
Makinex MKX32 Portable Generator
Makinex MKX32 has a rated output of 25,000 watts and is ideal for concrete contractors and trademen
Less than one third the size and weight of a comparable towanle and SKID generator, Makinex MKX32 is the world's smallest 32kVA 415V single/three-phase generator. With the world's smallest 32kVA generator, you can fit this unit in your trailer or truck and it fits through standard doorways.
Ideal for power-hungry contractors and tradesmen in the concrete, masonry and flooring industry.
Simultaneous single and three phase operation, the 23kVA uses permanent-magnet brushless alternator technology. This guarantees clean 415V three phase power and robust power supply.
Equipped with industry standard 32A 3 phase and 15A single phase outlets, the 32kVA 415V can power multiple pieces of single phase and 415V three phase equipment at the same time with no requirement for voltage selection. Just plug equipment into the right outlet and power it up!
Powered by the Honda GX690 horizontal engine you can be sure of great fuel economy, low emissions and a perfectly balanced engine with low vibrations.
Specifications
| | |
| --- | --- |
| Rated output | 25000W - 28000 (maximum output) |
| Weight | 320 kg |
Features
Honda GX690 x 2 (twin cylinder air cooled petrol)
32 Kva
50L Fuel tank
2 x 15 A single phase or 32A three phase sockets both with RCBO protection
2 x 15 amp single phase outlets
L x W x H: 1105 x 632 x 1206 mm
Can be used in parallel with another Makinex units
Advanced alternator tech saves 15% fuel vs similar generators using the same engine
Resources & downloads
Videos