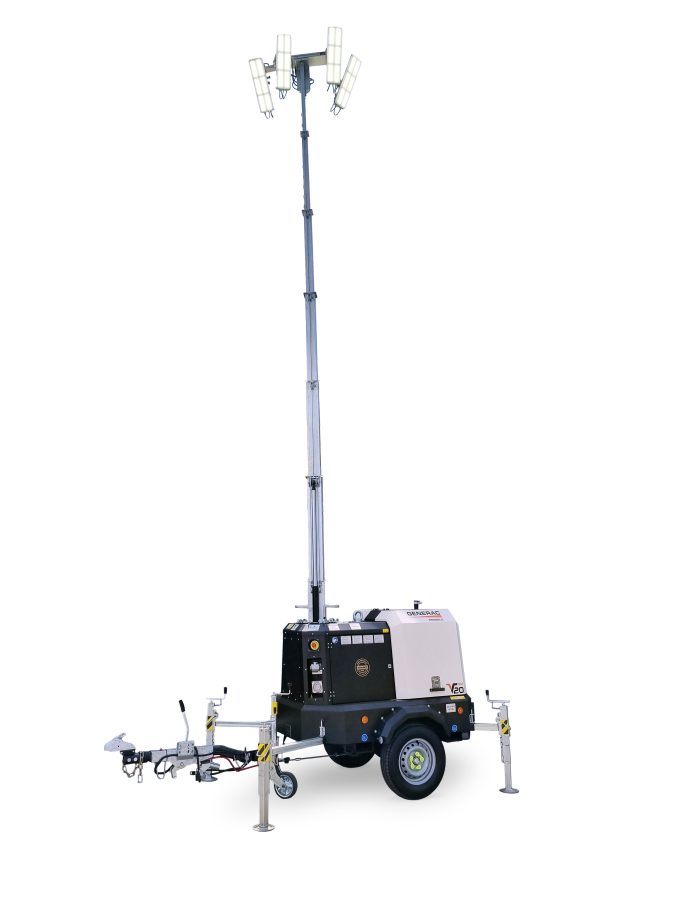 V20 PRO Light Tower
The V20 PRO combines 100% battery-powered supply, with the latest generation Generac Mobile hybrid power supply with a low consumption diesel engine for up to 471 hr running time
The V20 PRO is not just a new lighting tower, but an authentic and unique 'all in one' product. It embodies all the innovations and new technologies that Generac Mobile has developed over 20 years at the top of the industry as a manufacturer.
It has brought together all the rental needs into one single product with the most actual sustainable path.
Ideal for entertainment, construction and hire industries.
Specifications
| | |
| --- | --- |
| Total running time | Up to 471 Hr |
| Total lumen | up to 139200 lm |
| Illuminated area | up to 3100 m2 |
| Wind speed resistance | 110km/h |
Features
8.2M Hydraulic Mast
Fully Bunded
58dB(A) @ 7 metres
Mast rotation: 340 degrees
Dry weight: 1146kg
Zero Noise
Zero Pollution
Mast rotation 340 degrees
Tank capacity 100 litres
Kubota S482 engine
AGM battery pack
Liquid engine cooling
2 x 240 W high-efficiency G4 LED floodlights
Darkness sensor and digital timer for automatic start and stop
25%-100% Dimmer
Max total lumen between 25%-100% dimmer: 41040-139200
Max illuminated area between 25%-100% dimmer: 1500-3100 square metres
Battery recharging time between 25%-100% dimmer: 6h 11 minutes – 4h 29 minutes
Running time Battery between 25%-100% dimmer: 19h 46 minutes – 3h 45 minutes
Running time Generator between 25%-100% dimmer: 165 – 125 hours
Running time Hybrid between 25%-100% dimmer: 471 – 180 hours
Resources & downloads