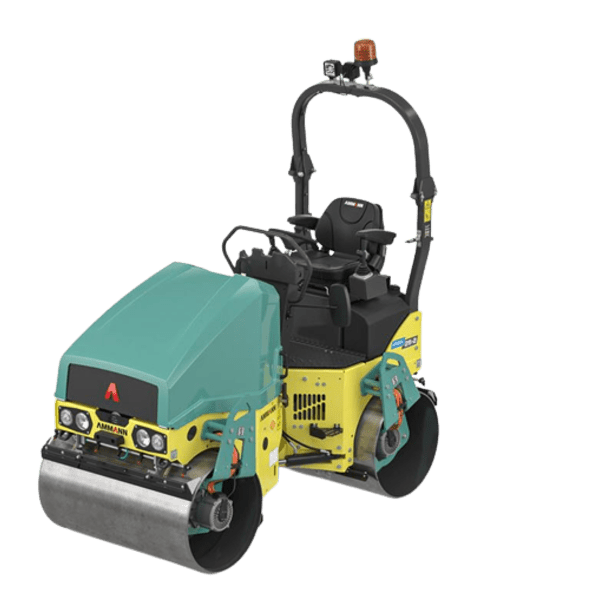 Battery Powered eARX26-2 Light Tandem Vibrating Roller
The Ammann eARX26-2 Light Tandem Roller features a fully electric drive that can operate for up to 18 hours without recharging
The eARX 26-2 2.5 ton tandem roller is equipped with a powerful battery pack with electric motors for the main drive and vibratory circuits. Gone are the conventional combustible (diesel) engine, hydrostatic drive and cooling circuits.
Key is the advanced 48-volt battery pack with a capacity of 600 Ah/31,5kWh. The pack's LiFePO4 technology is unique because each internal battery cell is independently protected. This makes the entire pack flame-resistant, increasing safety.
All electric drive and vibratory motors are equipped with a recuperation mechanism as standard. When the machine stops, or when vibration is turned off, the electric motors continue to generate power – and send it to the main battery to increase charge.
The roller, with a drum width of 1200 mm, features a new articulation joint that enables quick drum adjustment from in-line to offset configurations. Rollers that are offset are able to work close to obstructions. Operators need watch only one drum, knowing the second will be a safe distance from the obstruction. The in-line setting, which enables equal distribution of compaction forces, is preferred on more open jobsites.
The machine fits well on sound-sensitive jobsites such as crowded locations, city centres, and historical and residential areas. The eARX 26-2 is a great fit for night work, inside buildings and at underground jobsites.
Intuitive control and easy-to-explain operation are big benefits for those who provide training to end users, for those who rent for a short time, or for less-skilled operators.
Specifications
| | |
| --- | --- |
| Weight | 2770kg |
| Drum Width | 1200mm |
| Centrifugal Force 1 | 29-41 kN |
| Frequency | 55-66 Hz |
Features
Battery Type LiFePO4 48V
Operation weight 2640kg
Full side clearance right and left
Easy engine access
Teflon articulated joint with lifetime lubrication
Multiple water filtration
Foldable ROPS for easy transport
Two scrapers per drum
Resources & downloads