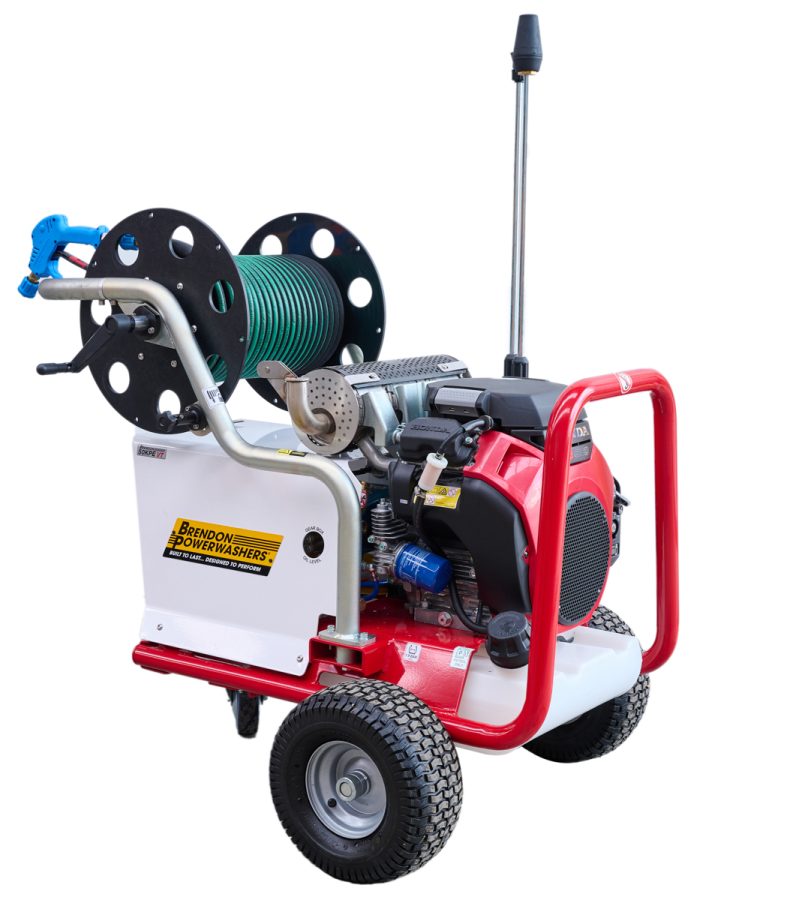 Petrol Powered 5145 psi Water Blaster
The YR Brendon Mobile Powerwasher is 5145 PSI with a volume of 16 litres per minute and doubles as a water pump
The latest model to the YR Brendon Powerwasher mobile water blaster machine line up has a very powerful Honda V Twin engine. The unique and compact design untilises Brendon's renowned heavy duty tubular steel chasis and incorporates a large capacity horizontal live hose reel and an integral moulded fuel tank.
With high pressure hose and a high flow rate, this model has 4.5m of section hose fitted with a Brendon protected stainless steel suction strainer for excellent water suction capability. It also has 20m of high pressure hose and 1M nozzle/gun and a thermo sensor valve which protects the pump from overheating when left for periods without operating the trigger.
This model also has an electic start and hour meter.
Ideal for industrial cleaning including paint removal, concrete and building including concrete removal, boat cleaning, farming, surface preparation, drain jetting and for the hire and rental sector.
Specifications
| | |
| --- | --- |
| Continuous pressure | 5145 psi |
| Flow rate | 16 ltrs/min |
| Engine | Honda GX630 |
Features
Comes with:
Heavy Duty Triple Piston Cat Pump
large capacity macual hose reel
25 litre integral fuel tank
Heavy duty tubular steel power coated chassis
Pump and valve protected by aluminium canopy
Large capacity inline water tilter
No lift push pull trolley design with jockey wheel brake
20m high double braided pressure hose and 2 x 1M lances
Thermo sensor valve to protect pump from overheating
6m armoured cable
Easy on/off switch
4.5m of suction hose fitted with a protected stainless steel suction strainer
Solid wheels to eliminate punctures
Stainless steel lance holder for two lances
Weight 175kg
Dimensions LxWxH in mm: 1170mm x 950mm x 1070mm
Resources & downloads