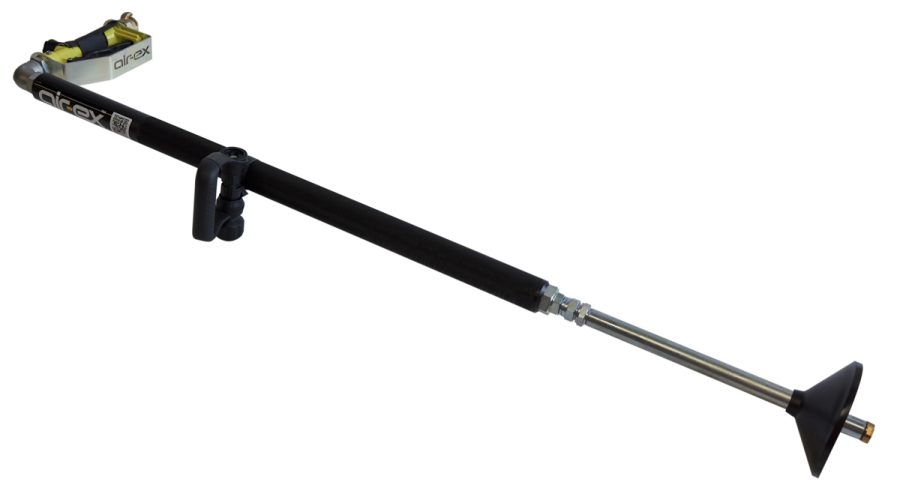 Videos

AIR-EX Excavating Tool
The AIR-EX is the industry leading tool for ground decompaction & clearance of spoil from underground assets.
With air speeds of up to 2135 kph & with pressures up to & exceeding 120psi, this tool enables safe, effective, stress free excavation around buried fibre optics, gas, water or electric.
Our Vulcanex Nozzles, with non-sparking tips, concentrate the air flow into a high velocity stream jet that penetrates & dislodges the soil in milliseconds, without damage to buried objects.
Ideal for ground excavation in utility, construction and hire industries: pipelaying, rail works, cable laying, gas, road works, tunnelling, arborculture, military, airports, municipal, building, environmental, hydro-demolition and petro-chemical.
Specifications
| | |
| --- | --- |
| Length of body (mm) | Type A: 755 / Type B: 1145 / Type C 1335 |
| Weight (kg) of handle and body | Type A: 1.75 / Type B: 2 / Type C: 2 |
| Compressor (cfm) | 40 - 180 CFM |
Features
Pressure 72 – 174 psi or 5-12 bar
dB level: 93 dB (close to compressor)
HAVS: zero
Effective 'cut': typically around 100mm
Complies to BS3054:1959 (Firemans axe)
Tested to BS ENG 61235:1995 (live working – insulating hollow tubes for electrical working)
H.V. Test: 75 kV
Weight: 2.75-3.0kg
Non-spark brass
Resources & downloads
Videos